3
rd

Mountain Resort Summit Central Europe
Investments and innovations in mountain centers
Business 2 Business
High End Knowledge Exchange
Networking
Hotel Viceroy
Kopaonik
Republic of Serbia
Investments and innovations in mountain centers
The PE "Ski Resorts of Serbia" and the Center for Tourism Research and Studies are organizing the third Mountain Resort Summit Central Europe (MoReSCE) on Kopaonik (28.03.-30.03.2023.).
Within the topic: "Investments and innovations in mountain centres", MoReSCE 2023 addresses platform for business cooperation between decision makers in 25 mountain resorts across 12 countries and providers of equipment, products and services for year-round development of tourism in the mountain resorts.
MoReSCE 2023 continues its mission as the only event in the region to create conditions for improving the competitiveness of destinations as well as connection of key stakeholders. This year's focus is on investments and innovations, in mountain resorts in the region, especially in the aftermath of the COVID-19 pandemic.
MoReSCE 2023 will bring together participants and partners in the following areas:
New investment cycle in the mountain centers of the region: Raising competitiveness as a priority.
Financing major projects: How far have we progressed since the last cycle?
Innovation and digitalization in the mountain resorts.
Where will MoReSCE 2023 take place?
The most modern and newest hotel built in June 2021. In addition to Kopaonik, this prestigious brand is located in some other world famous destinations (Los Angeles, Chicago, Mexico, Panama, St. Lucia, Portugal…).
State Secretary in tne Ministry of Trade, Tourism and Telecommunications of the Government of the Republic of Serbia
State Secretary in tne Ministry of Sustainable Development and Tourism of the Government of the Republic of Montenegro
Deputy Minister of Tourism of the Government of Romania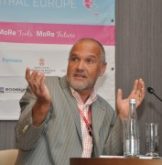 Vice President of the Association of Mountain Centers of Europe, Republic of Slovenia
• National Tourism Administrations/Organizations, Mountain destinations (DMOs), regional DMOs,
• Local authorities, municipalities and regional administrations in mountain areas,
• International and/ or regional associations/networks with focus on mountain development,
• Ski resort developers, investors and infrastructure providers,
• Associations and institutions related to snow tourism, adventure tourism.
136 participants
5 countries
9 mountain resorts
7 service providers and equipment manufacturers
117 participants
7 countries
11 mountain resorts
8 service providers and equipment manufacturers
85 participants
12 countries
25 mountain resorts
9 service providers and equipment manufacturers
Arrival of participants at the Kopaonik Mountain Center and registration at the Viceroy Hotel
Evening welcome cocktail and opening of MoReSCE 2022
Panel 1: New investment cycle in the mountain centers of the region: Raising competitiveness as a priority
Panel 2: Financing major projects: how far have we progressed since the last cycle?
Panel 3: Innovation and digitalization of mountain centers
Party at the top: Master class of chef Andrew Jones
Study tour and skiing
Traditional farewell brunch
MoReSCE 2022 Partner Support